Chai Tea Latte~ The Best Winter Beverage!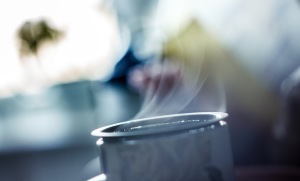 A well-made chai tea latte is my favorite winter beverage! It's  sweet, spicy and warming. While most people are drinking their sugar-laden pumpkin and peppermint lattes, they'd be doing a lot better sipping on chai. The nice thing about chai is that you can make it as sweet or as spicy as you like. And if you add a little honey, some of  chai's herbs help to counterbalance the sweetness (good for both taste and for your health!) Chai also prepares your body for the colder months with warming spices while still giving you the feeling that you're indulging in a seasonal beverage (because you are)!
Making chai can be as simple as buying a prepared combination of quality  herbs and spices already combined for you! All you have to do is steep, add milk, maybe a dollop of honey and voila! You have yourself a healthy and delicious winter beverage! My favorite chai tea blends are Mountain Rose's Classic Chai (caffeinated) and Firefly chai (herbal and not caffeinated).They are organic and you can find them here.
If you have more time, you can make  your own Chai Tea Latte at home. Here's my recipe:
Boil 5 cups of water.
Turn it down to a simmer and add: 10 whole cloves, 12 whole cardamom pods, 12 whole black peppercorns, 3 cinnamon sticks, 2 tablespoons licorice root, 3-4 inches of chopped ginger root, 1-2 tablespoon raw, local honey or 1/2 teaspoon of stevia (the mixture of honey and stevia could also be nice).
Let the spices simmer for 30 minutes to an hour.
Turn off the heat and add your chosen tea (black if you want the most caffeine, green if you want a bit less, and rooibos if you want a non-caffeinated herbal chai).
Let steep for approximately 8 minutes (4 minutes for green tea) and strain it.
Store the chai tea in the refrigerator for up to 10 days.
To prepare a chai latte, heat 1 cup of the chai tea on the stove and add your milk of choice (grass-fed raw cow's milk is my favorite, but you can use almond, rice, coconut, or goat's milk)
Each of the ingredients in Chai brings a slew of health benefits!
Ginger root is an appetite stimulant and works wonderfully for many digestive issues. It also stimulates peripheral circulation, contains antioxidants, and has antimicrobial properties (making it a great pair with raw fish in sushi!) It also has anti-inflammatory effects, which have been shown to help with arthritic conditions.1 Fresh, organic ginger can be bought at your local supermarket or health food store. Or you can use dried, organic ginger. 
Clove is another antimicrobial herb for the digestive system. It is thought to increase peristalsis and stomach acidity, both of which are crucial for optimal digestion and absorption of our food. It is also a natural painkiller1. You can buy quality, organic cloves here.
Black pepper has been shown to reduce high-fat induced oxidative stress in rats2. This means that it works as an antioxidant, preventing cellular damage due to stress from the body's inability to quickly detoxify when overloaded with a stressful toxin. It's also been shown to increase the absorption of vitamins and nutrients in the body (3). You can get quality, organic peppercorns here. 
Cinnamon is one of my favorite herbs. Some studies have shown that cinnamon helps to regulate blood sugar levels. You can get organic cinnamon sticks here.
Licorice root is a wonderful anti-inflammatory herb and has been used to treat digestive issues, such as gastritis and gastric ulcers. It is also used, particularly in Japan, to reduce symptoms associated with hepatitis due to its' anti-inflammatory properties. Overall, it has a sweet flavor that is a great addition to many of the other spicy herbs used to make chai1. You can get quality, organic licorice here.
Cardamom works wonders for bloating and gas. It stimulates the body's physiological processes. It is like caffeine in this way, but without the jittery effects1! You can get whole, organic cardamom pods here.
Black Tea is full of antioxidants. It's been shown to decrease the risk of heart disease by significantly decreasing LDL and VLDL ("bad" cholesterol) levels4. You can buy quality, organic black tea here. One of my favorite black teas to make chai with is Vanilla Black tea. It's made with organic black tea from India, chrysanthemum flowers, and vanilla. It gives you the caffeine focus without the jitters.
Green Tea has been touted for it's high-antioxidant content. It has also been shown to reduce the risk of heart disease. And when compared with back tea, it was shown to more significantly reduce LDL and VLDL levels in hamsters4. You can buy quality, organic green tea here.
Rooibos Tea or African Honeybush Tea both have potent antioxidants and antimutagenic activities in vitro. It's been used as a medicinal tea in Africa5. There are non-caffeinated, herbal teas with a naturally sweet flavor. They make great chai! You can buy quality, organic rooibos teas here.
I hope you enjoy your chai this winter! Feel free to leave comments below and share your own recipe!
1.) Hoffman, David. "Medical Herbalism: The Science and Practice of Herbal Medicine". Healing Arts Press. 2003.
2.) Vijayakumar, R. S., D. Surya, and N. Nalini. "Antioxidant efficacy of black pepper (Piper nigrum L.) and piperine in rats with high fat diet induced oxidative stress." Redox Report2 (2004): 105-110.
3.) Dudhatra, Ghanshyam B., et al. "A comprehensive review on pharmacotherapeutics of herbal bioenhancers." The Scientific World Journal 2012 (2012).
4.) Vinson, Joe A., and Yousef A. Dabbagh. "Effect of green and black tea supplementation on lipids, lipid oxidation and fibrinogen in the hamster: mechanisms for the epidemiological benefits of tea drinking." FEBS letters1 (1998): 44-46.
5.) McKay, Diane L., and Jeffrey B. Blumberg. "A review of the bioactivity of South African herbal teas: rooibos (Aspalathus linearis) and honeybush (Cyclopia intermedia)." Phytotherapy Research1 (2007): 1-16.
Comments
comments