Meade Danielle Mueller, L.Ac.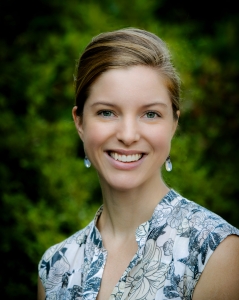 Meade Danielle has been interested in aspects of mind, body, and spiritual health for as long as she can remember. Nutrition, and its effects, became a focus in her life early on.  This blooming passion led to a Bachelor of Arts in Biology from Roanoke College.
After graduation, she knew she wanted to help people improve their health, but was unsure of what role she wanted to be in, specifically.  Meade Danielle took a teaching position in Busan, South Korea for a year, teaching English as a second language to school-age children and university students. During this year, she had the opportunity to address a long-standing health issue, PCOS (Polycystic Ovarian Syndrome), with Chinese Medicine and acupuncture.
She had no expectations while being treated with acupuncture and Chinese herbal medicine, but was open-minded and genuinely enjoyed the treatments and healing process with the medicine. Her body responded very well to treatment and within 2 months of treatment, my PCOS symptoms began to fall away. She was amazed! And she then had a clear vision of how she wanted to help people.
Upon returning to the States, she started a 4 year program that led to her Masters in Acupuncture.
She enjoys the relationships, the challenges, and the diversity of issues that people come to her for.   Some of the various issues she most commonly helps patients with include:
Pain – chronic and acute, of all sorts
Menstrual, hormonal, and menopausal issues
Fertility & pregnancy support
Nutrition and weight loss counseling
Thyroid disorders
Bizarre symptoms/conditions that have not been helped with conventional medicine.
Heather Mancini, RN, L.Ac.
Heather has been a practicing health care provider since 2009 and brings her background of Western medicine to her Eastern practice. She believes in the benefit of both modalities and practices with an integrative approach. Along with being an Acupuncturist, she is a practicing Registered Nurse and has worked with adult, pediatric and even the most fragile of patients in the neonatal ICU. Her interest in practicing under an Eastern model of healthcare came gradually as she experienced the pain of her patients and her own heath struggles. She saw just too many newly born infants with incredible health issues and felt strongly that something needed to be done to prevent these babies and parents from such a heartbreaking beginning at life. Though she wanted to continue her work, she had been having chronic pain and fatigue that would not subside despite many traditional interventions. She was diagnosed with Fibromyalgia and decided that she needed to take control of her health. It was through this struggle that she stumbled upon acupuncture somewhat accidentally, and began a new take on life. She through regular acupuncture, dietary and lifestyle changes completely changed her wellbeing and no longer fits within the criteria of a Fibromyalgia diagnosis.
Heather was so moved and grateful for the gift of alternative therapies that she decided to get a Master's in Acupuncture so that she could help other people improve their wellbeing. She did not give up on her own health and encourages her patients to follow the same philosophy. She enjoys treating people with a variety of symptoms and conditions. She is drawn to women's health, reproductive care and fertility because of her time caring for compromised infants. Acupuncture and nutrition fit beautifully within her original goal of preventive healthcare. She has also treated patients with pain, fatigue, eating disorders, anxiety (generalized and specific), unexplained digestive symptoms and insomnia. Heather enjoys helping people achieve their health goals with a positive and compassionate approach.
Do you have questions about how we can help you? Send us a message here.